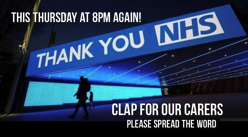 Thursday, 30 April 2020
With all the lockdown stuff going on things have come to a standstill with only one design job on at the moment, I guess if companies, organisations, and businesses of all trades and sizes need to make drastic cutbacks, the first in fireing line is design, and as I'm self employed, things are looking bleak and I've yet to hear from the relevant authority on a plan for the future which is pretty worrying but I'm also really glad that alot of people are able to make things work.
Monday, 23 March 2020
Looks like most of us (self employed graphic designers) are in the same boat at the moment so not sure about what steps to take next to try and generate an income in order to buy essentials and pay bills, it's been a bad year for me even before the corona virus went nuts, as I've not had any paying work since early November and now this - slightly worrying as I've worked from home for the past nine years and don't really socialise, only leaving the house for emergencies, so life is pretty much the same for me I'm just left thinking about the homeless, how are they suposed to self isolate? and what can be done to open up un-used properties to help out - recently read...
Wednesday, 12 February 2020
I'm not normally one to waffle on, unless on the subjects of Macs, graphic design, Affinity suite or electric guitars, but thought that I could probably talk here about anything as I'll probably be the only one to read it. Just thought I'd have another go at trying to get a sociable person onboard to help out, doing all the business stuff and just feed me work as I need to just concentrate on the art and design stuff, I know there's lots of really great socialites that could take this thing to a whole different level and beyond by just talking and communicating, which is something I struggle with. I'd love to know if anyone is interested just send me a message from...